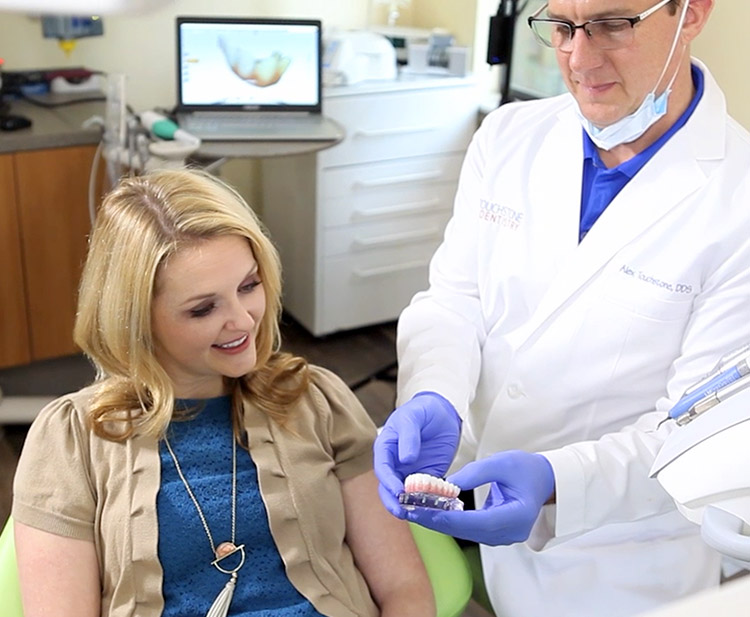 Dr. Touchstone is a leader in providing cosmetic dental treatments using advanced computer-assisted digital technology. Digital technology allows us to design and produce cosmetic treatments such as veneers and crowns right in our office. This means that you could choose your veneers in the morning and wear them in the afternoon.
Veneers
Have you ever noticed that celebrities have almost perfect smiles? Their secret is that they are wearing porcelain veneers. These high-quality veneers are like tiny shells that fit over each of your teeth to dramatically change their color, shape, and size. With veneers, you can customize the look of your teeth and smile to perfectly suit your tastes.
Crowns
When a tooth suffers significant injury or decay and the entire tooth structure is at risk, we create a crown for the tooth. First, we remove the decay in the tooth, and then we shape the tooth to support the crown. We make the crown in-house using our digital scanning and milling technology, and cement it onto the tooth. It completely caps the tooth, so it looks natural and functions like a regular tooth.
Inlays/Onlays
Inlays and onlays (also called partial crowns) are much like fillings, except instead of filling the cavity directly, we create a pre-molded filling that's then cemented into the tooth for a durable and long-lasting bond. Onlays are similar to inlays, but they cover a larger area of the tooth. We use our in-house digital technology to prepare these prosthetics in-house—no need for messy impressions.
Related Videos
Have Questions? Get In Touch!
If you would like to book an appointment with Touchstone Dentistry, or if you have any questions at all, please feel free to reach out and one of our team members will be in touch.
Contact Us