This is a permanent solution for missing teeth—and it's the closest you can get to having your natural teeth back. We typically provide the entire implant procedure right in our office, including the initial consultation, surgical placement of the implants, and creation and placement of replacement teeth. You can trust our reputation as a leader in cosmetic dentistry to provide you with implants that look great, stay healthy, and last a lifetime.
How single tooth implants work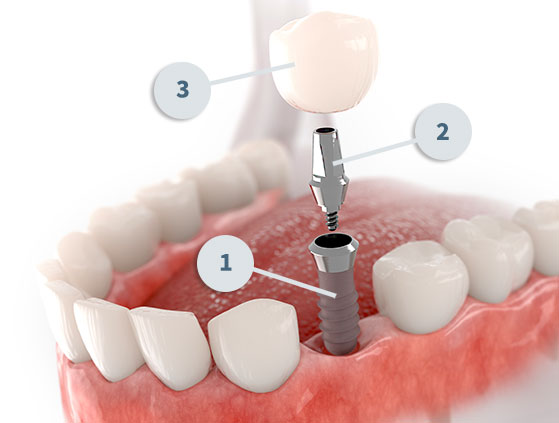 1. Implant placement
To begin, we choose the ideal location that will provide the most support for the implant, and then we place it in a surgical procedure.
2. Attach abutment
Once the implant is permanently in place, we attach a device called an abutment that will provide support for a dental crown.
3. Fit and place crown
After the abutment has been placed, we design a dental crown that matches your other teeth and permanently attach it to the implant.
Why choose a single tooth implant?
Looks and feels like a natural tooth
Preserves bone and prevents bone loss
Restores biting strength
Easy to care for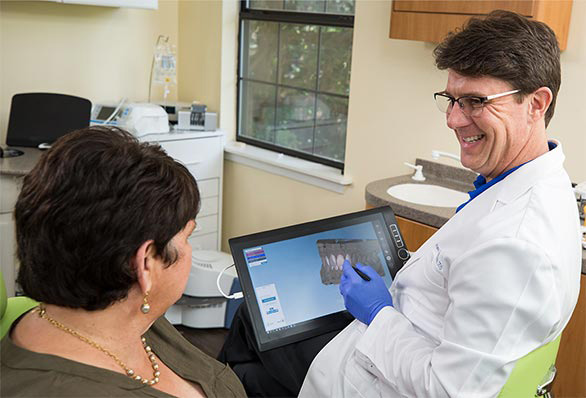 Have Questions? Get In Touch!
If you would like to book an appointment with Touchstone Dentistry, or if you have any questions at all, please feel free to reach out and one of our team members will be in touch.
Contact Us
Frequently Asked Questions
When a missing tooth is not replaced, the jaw bone may begin to deteriorate around the space left by the missing tooth. This may result in changes in the shape of your jaw, and it can also result in your remaining natural teeth shifting positions. Dental implants can prevent this from happening because they stimulate and preserve the healthy bone.
During your first appointment, Dr. Touchstone will run the necessary tests to see if you're a candidate for dental implants. If you qualify, he'll develop a treatment plan that includes a timeline, pricing, and expected results. We work with one patient at a time, so you'll have plenty of time to ask questions!
If you are missing multiple teeth you may still be a candidate for dental implants. Depending on the health of your jaws and the locations of the missing teeth we may be able to place multiple single tooth implants or an implant-supported bridge or denture. Dr. Touchstone will discuss your options during your implant consultation.
The treatment time varies from patient to patient and can range from three months to one year. The actual time depends on whether we need to augment the existing bone so it will support the implant and how long it takes for your mouth to heal after the implant procedure is completed. Dr. Touchstone will usually discuss the treatment time during your initial implant consultation.
With good dental hygiene, regular checkups on the health of your implant, and good overall health, your implants should last for decades. The crown may wear out over time and may need to be restored or replaced, depending on your eating and dental hygiene habits.
Your implant dentures will function and look just like regular teeth. The dentures are made of composite material, so you will be able to feel them with your tongue, but for most of the time they should feel like natural teeth.
You care for your implant just like you would for your natural teeth, with regular brushing, flossing and professional cleaning. You can also use an interdental brush or irrigator to clean around the crown to remove any food particles.